Sleep Powder
Regular price
Sale price
$60.00 USD
Unit price
per
Sale
Sold out
Sleep Powder helps you get the rejuvenating rest you need to feel your best. Made with a sleep-enhancing blend of vitamins, minerals, and full spectrum CBD for a deep, restful sleep.
400 mg Full Spectrum CBD
Cocoa-flavored
Magnesium, Passion Flower, L-Theanine, & Melatonin
Lab Tested
0 THC
Gluten Free
Non-GMO
Organically Sourced Hemp
Full Spectrum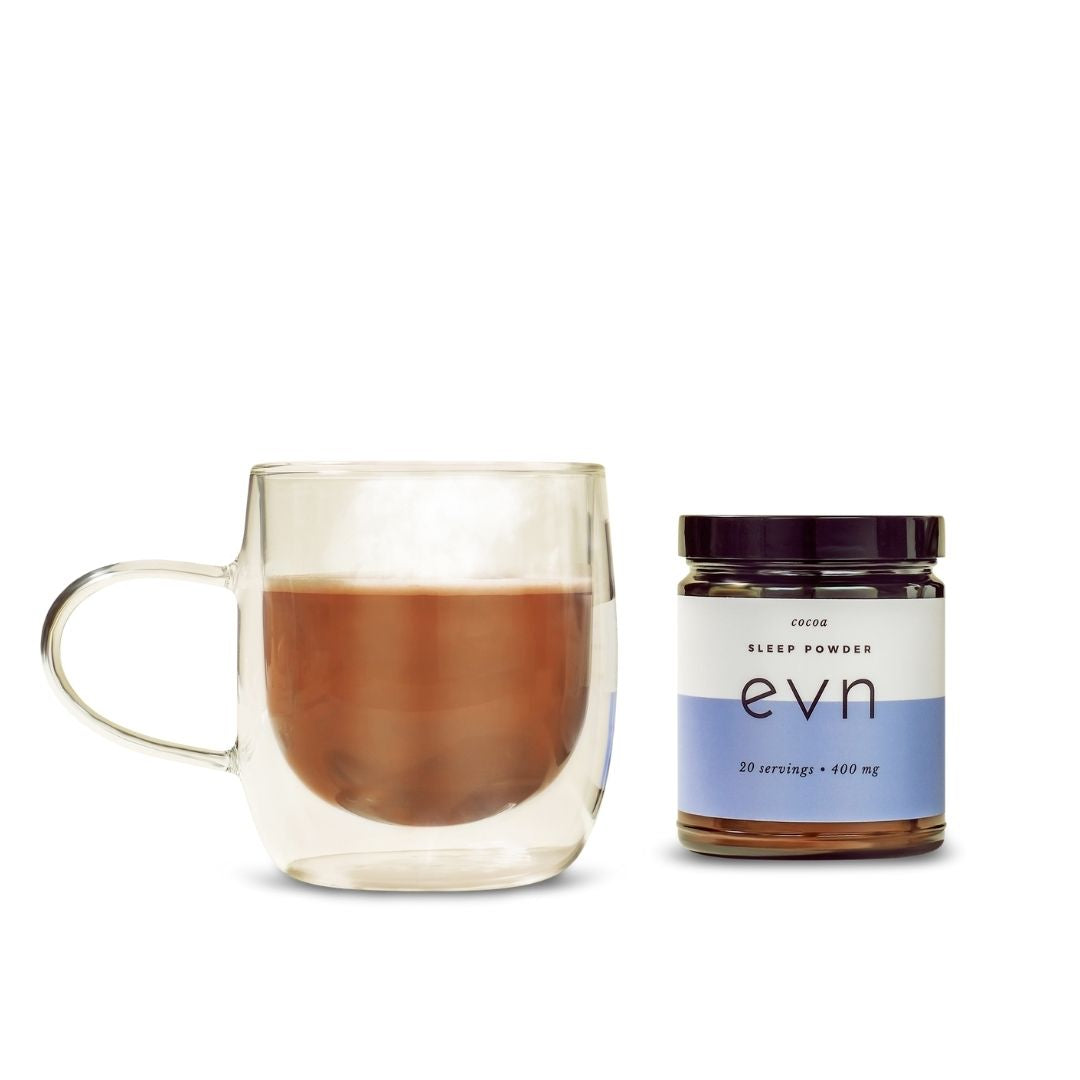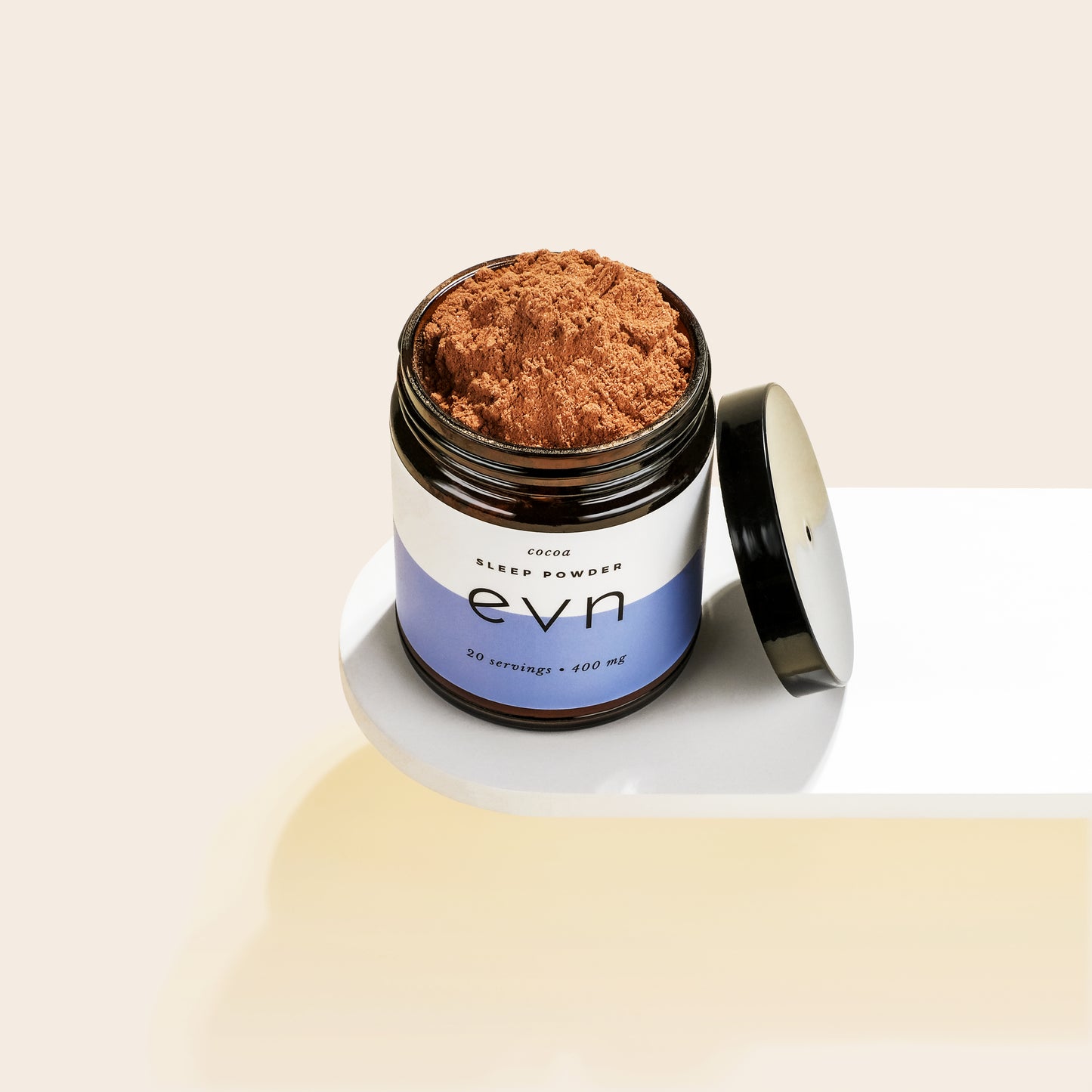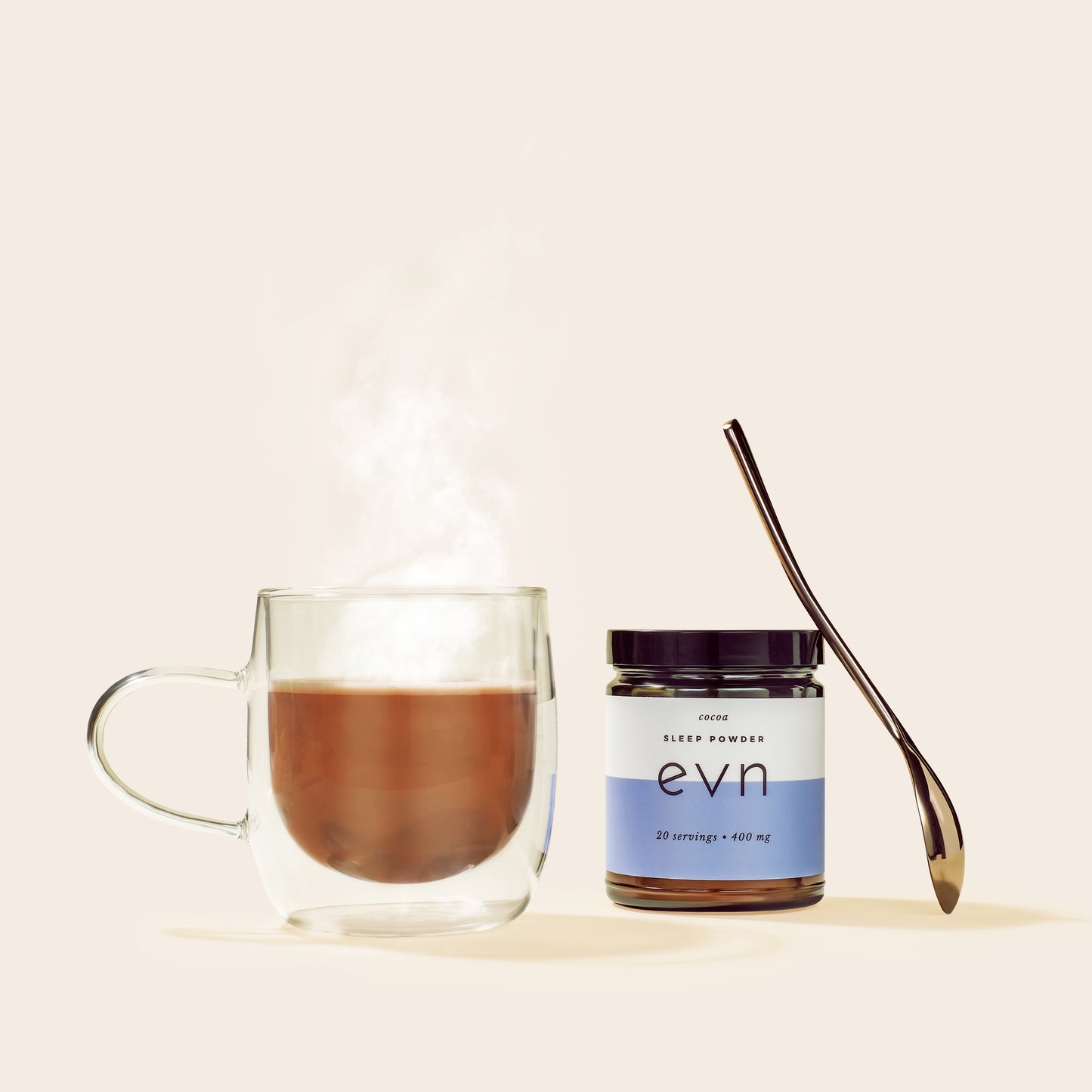 Collapsible content
Ingredients

Full Spectrum CBD, Magnesium Citrate, Passion Flower, L-Theanine, Melatonin

Other Ingredients: Organic Cacao, Tapioca Maltodextrin, Stevia, Natural French Vanilla Extract, Sunflower Lecithin
How To Use

30 minutes before your desired bedtime, blend 1 tsp of Sleep Powder into milk (of any kind), tea or hot water.
ORGANIC HEMP

Sourced from organically-grown, family-run hemp farms.

LAB TESTED

Tested by ISO 17025 accredited, third-party independent labs.

30-DAY SATISFACTION GUARANTEE

FREE SHIPPING

Free ground shipping on U.S. orders over $25.
"Evn's Sleep Powder will help you ease your way into some Zzz's."

"Evn products are geared toward athletes and professionals alike — they are some of the best you will find."

"Designed to promote harmony between mind and body."
FAQ'S
What is in Sleep Powder?

Evn CBD Sleep Powder is expertly formulated with natural ingredients that when used together, provide a longer and more restful sleep with CBD dreams. 

Full Spectrum CBD is a cannabis plant extract that includes terpenes and other minor cannabinoids in addition to CBD.

Magnesium is a nutrient that aids in reducing stress and helps you sleep longer.

Passion Flower helps to relax the nervous system and can help in treating sleep disturbances.  

L-theanine promotes relaxation. It's an amino acid commonly found in green tea leaves. 

Melatonin is a hormone that affects the sleep cycle. As a supplement, it is used for the treatment of insomnia.
What are the benefits of CBD Sleep Powder?

Sleep Powder helps you get the rejuvenating rest needed for you to feel your best. Sleep Powder is formulated with a sleep-enhancing blend of magnesium, passionflower, L-theanine, melatonin, vitamins, minerals and full-spectrum CBD which helps provide you with a deep sleep. Its calming effect helps lull you to sleep so you can wake up rested and refreshed, ready to start your day. 
When can you see results?

It's common to experience an increase in sleep quality after using Sleep Powder for just one night – for some it may take 2-3 nights. 
How will you feel waking up?

Unlike other sleep aids, CBD Sleep Powder is formulated to give you the best night sleep so you can wake up feeling rested and refreshed.
How much CBD is in each serving?

Each serving contains 20 mg of full spectrum water soluble CBD.
Can you use Sleep Powder for anxiety relief?

Sleep Powder is designed to promote a sense of calm which can help manage stress. CBD is not intended to treat or cure anxiety.