CBN Gummies
Regular price
Sale price
$45.00 USD
Unit price
per
Sale
Sold out
Unwind from the day's events and enter a restorative and tranquil state with Evn's Sleep Gummies. Made with full spectrum hemp sourced from Tricolla Farms in New York, these vegan, peach-flavored gummies pack in a synergistic combination of 15mg of CBN and 20mg of CBD, providing you with a deeper sense of calm and more restorative sleep.
15 mg of CBN and 20 mg of CBD per gummy
30 gummies per bottle
Made with full spectrum hemp from

Tricolla Farms in New York

Peach flavor
No artificial flavors or colors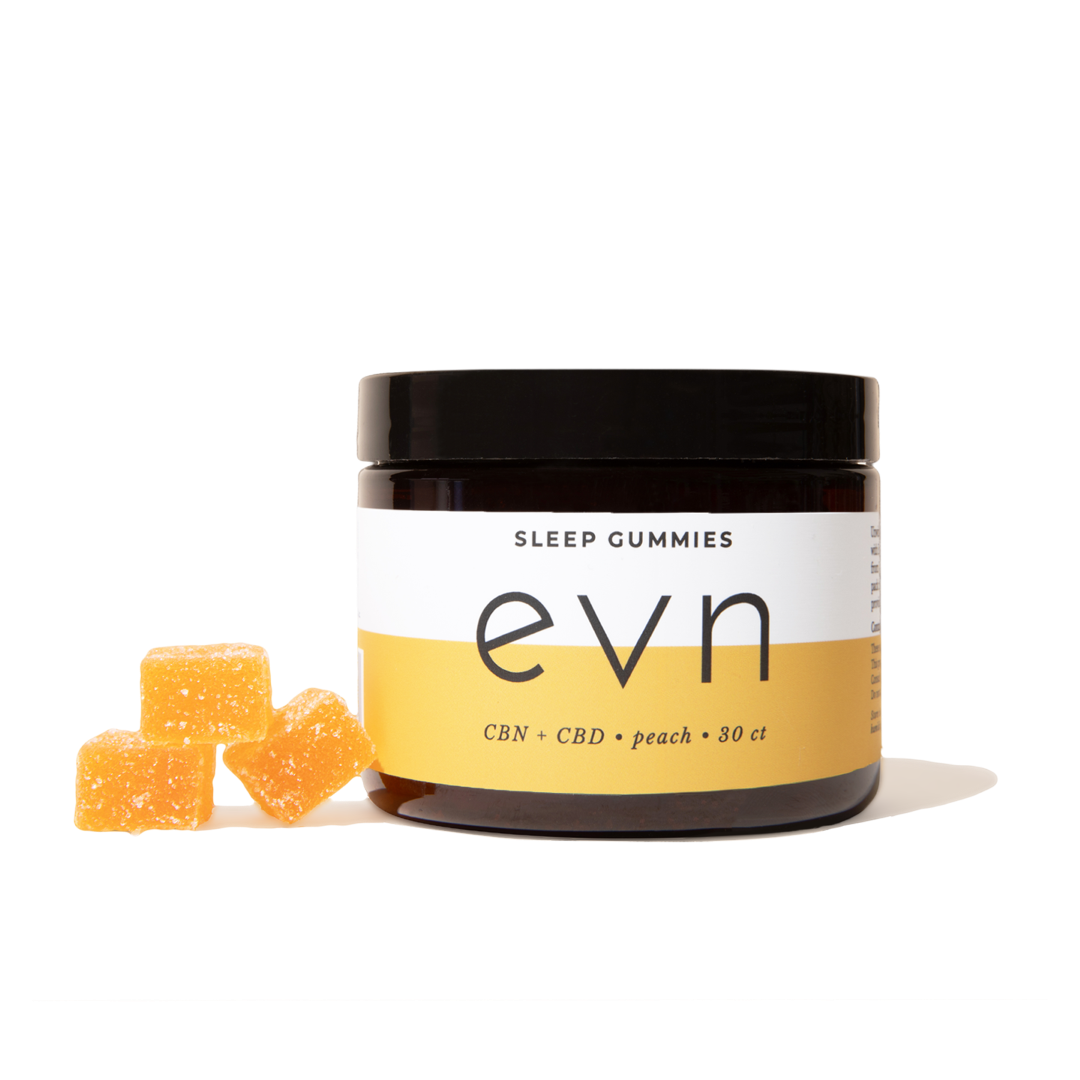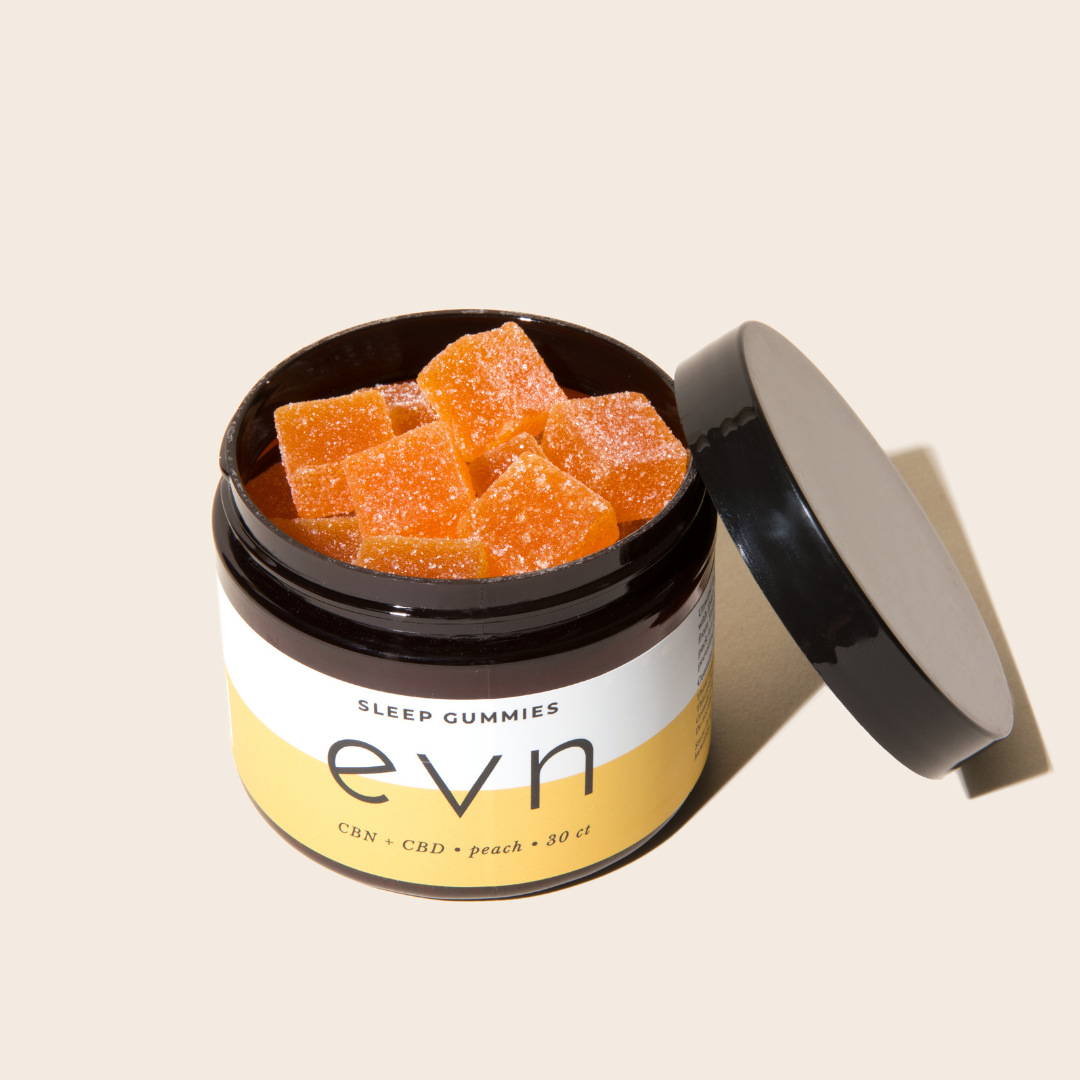 Collapsible content
Ingredients

Ingredients: Organic Tapioca, Cane Sugar, Pectin, Citric Acid, Full Spectrum Hemp Extract, CBN (Cannabinol) , Vegetable and Fruit Powders (color), Fruit Oils (flavor), Sodium Citrate, Coconut Oil.
How To Use

Supplement Facts: Servings Per Container 30
Serving Size: 1 gummy
Suggested Use: Take 1 gummy daily or as needed
ORGANIC HEMP

Sourced from organically-grown, family-run hemp farms.

LAB TESTED

Tested by ISO 17025 accredited, third-party independent labs.

30-DAY SATISFACTION GUARANTEE

FREE SHIPPING

Free ground shipping on U.S. orders over $25.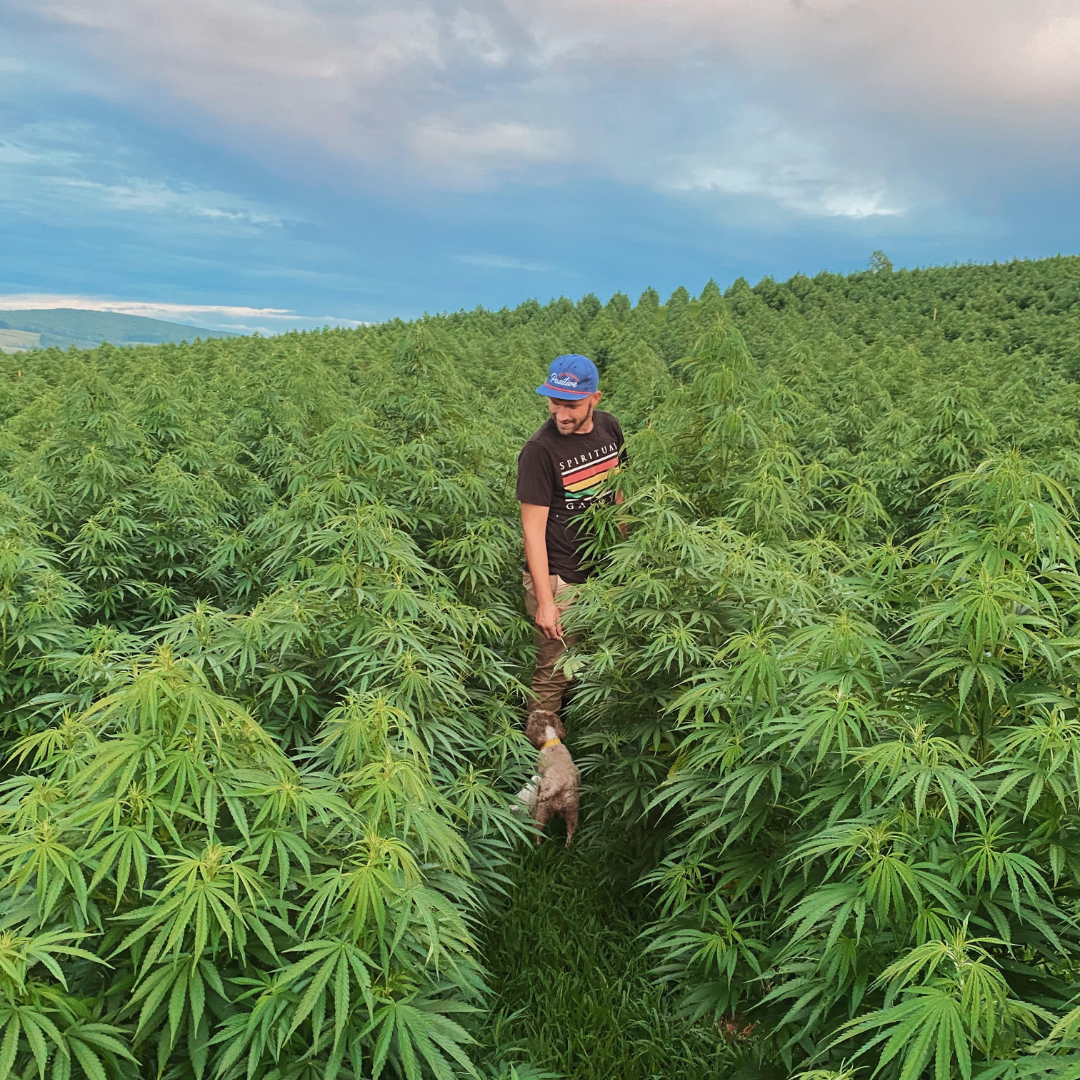 Crafted with Organic Hemp from Tricolla Farms
Evn's Sleep gummies are made with high-quality, full-spectrum hemp that's sourced from family-owned and operated Tricolla Farms in New York.
CBN Gummies for Sleep
CBN is widely known as a potent, highly effective cannabinoid that can provide deeply relaxing effects that may improve sleep.
FAQ'S
How many CBN gummies should I take?

The ideal CBN dosage varies from person to person. We recommend starting with one gummy and increasing gradually, if necessary.
Can you use Sleep Gummies for anxiety relief? 

Our Sleep Gummies are reported by many to help promote a sense of calm, thereby assisting in the management of typical day-to-day stress. Numerous testimonials support that statement, however, none of our capsules, oils, or other CBD or CBN products are intended to treat or cure any disease, disorder, or ailment.
Can CBN Sleep Gummies be used for sleep issues?

Our CBD and CBN products are not meant to diagnose or cure any health condition or treat injury, but many people report success in using CBD and CBN products for sleep.
Is CBD and CBN considered safe by medical doctors?

The World Health Organization considers CBD safe, so it's likely to be only a matter of time before CBD and CBN is fully recommended and supported by the medical community.

Discussing the addition of any supplement, like CBD or CBN with your doctor, is always a good idea. One factor upon which industry experts and doctors agree is that quality is of prime importance when choosing a hemp source. Obtaining premium products, like those made with utmost care by Evn, is the only way to definitively determine whether CBD and CBN can be beneficial for you.
What is CBN?
CBN is formed when THC-A undergoes the oxidation process. CBN has been used by many folks that experience deeply relaxing side effects that have been suggested to act as an effective sleep aid. In addition to CBN gummies being used for sleep, CBN gummies have also been shown to potentially help with unwanted areas of inflammation and pain. Lastly, CBN is even being studied for its potential to act as an effective anticonvulsant, for anyone who is suffering from seizure disorders that could include epilepsy. 
What is the difference between CBD and CBN?
The first notable difference between CBD and CBN is that CBD is non-psychoactive, while CBN can potentially end up being more psychoactive. However, CBN is also known amongst cannabis consumers as the less potent version of THC. In general, it's about 90% weaker. In addition to this, as opposed to coming directly from the cannabis plant like CBD, CBN is actually created directly from THC through the degradation process. This is why the older and more dried out cannabis flowers oftentimes contain even more elevated levels of CBN. Next, while CBD has undergone extensive studies, the research that's been carried out on CBN is still in its more preliminary stages. At this point in time, the research that's been carried out on CBD supports it for anxiety and pain relief, while the research on CBN has not progressed far enough to provide clear recommendations.
What is CBN good for?
While the research that's gone into CBN at this point is still in its early stages, there is already encouraging evidence that suggests that CBN can potentially be highly effective at providing relief for pain, insomnia, inflammation, and appetite loss. Thus, investing in CBN gummies is absolutely worth a shot if you've exhausted your prior experimentation with other more common sleep aids like melatonin. There are also even CBN gummies that are available that include both CBN and melatonin in the gummies. It's been suggested that CBN and melatonin can work well with one another.
What is CBN in Gummies?
CBN gummies are avidly enjoyed by many cannabis consumers and people who have had their bouts with sleeping difficulties. CBN gummies are gummies that have been infused with the cannabinol (CBN) cannabinoid. You should note that both broad and full-spectrum CBN gummies can contain additional cannabinoids such as CBD and/or THC. However, any CBN gummies that have been made with just CBN isolate won't include any other cannabinoids. 
Does CBN help with sleep?
While the studies that have been carried out on the effectiveness of CBN when it comes to encouraging consistent, restful nights of sleep for CBN consumers are in their earlier stages, there has been an encouragingly high level of collective, positive feedback that CBN gummies can indeed help encourage restorative and deeply restful nights of sleep. On top of that, CBN gummies are non-habit forming, which is great for anyone that might be at all concerned with becoming reliant upon CBN sleep gummies.
How many CBN gummies should I take for sleep?
For adults it's generally recommended that you consume at least one 10mg CBN sleep gummy orally 30 minutes to 1 hour before you go to bed each night. If you decide to shake things up from CBN sleep gummies, and instead want to experiment with a tincture make sure that you hold the oil from the CBN tincture underneath your tongue for at least 20 seconds before you swallow. Lastly, it's advised that you consume CBN for at least 2 weeks to allow for the proper amount of time that's needed for it to work with your endocannabinoid system. From there, you'll be able to further adjust your CBN dosage for sleep as needed.
Does CBN make you groggy?
Anecdotal evidence has suggested at this point that grogginess can be a potential side effect of consuming CBN. This rings especially true when you consume CBD+CBN gummies. It is for this reason that it's most commonly advised and upheld to not consume CBN gummies during the daytime hours. This is also why you will oftentimes see CBN presented in the CBN gummies for sleep form.
How long do CBN gummies last?
CBN gummies will oftentimes provide their effects for anywhere between 4-6 hours. In general though, you should start with a very low does, so that you can firmly establish your tolerance levels and then adjust your CBN dosage for sleep from there. Your body weight, height, genetics, metabolism, etc., will all play instrumental roles in how long you ultimately feel the effects of CBN gummies.