"The yum factor with the sour gummies is seriously on point — both rank easily among the best-tasting CBD gummies we've tried."

"Evn products are geared toward athletes and professionals alike — they are some of the best you will find."

"Evn CBD keeps their lineup simple, however, they also work incredibly hard to ensure they do them well."
Benefits of CBD Gummies
CBD gummies can provide a variety of health benefits, such as promoting a sense of relaxation. Here are some additional benefits: 
- Fosters a sense of calm 
- Supports mood regulation
- Aids in sleep support
- Helps with recovery
- Supports mental focus and clarity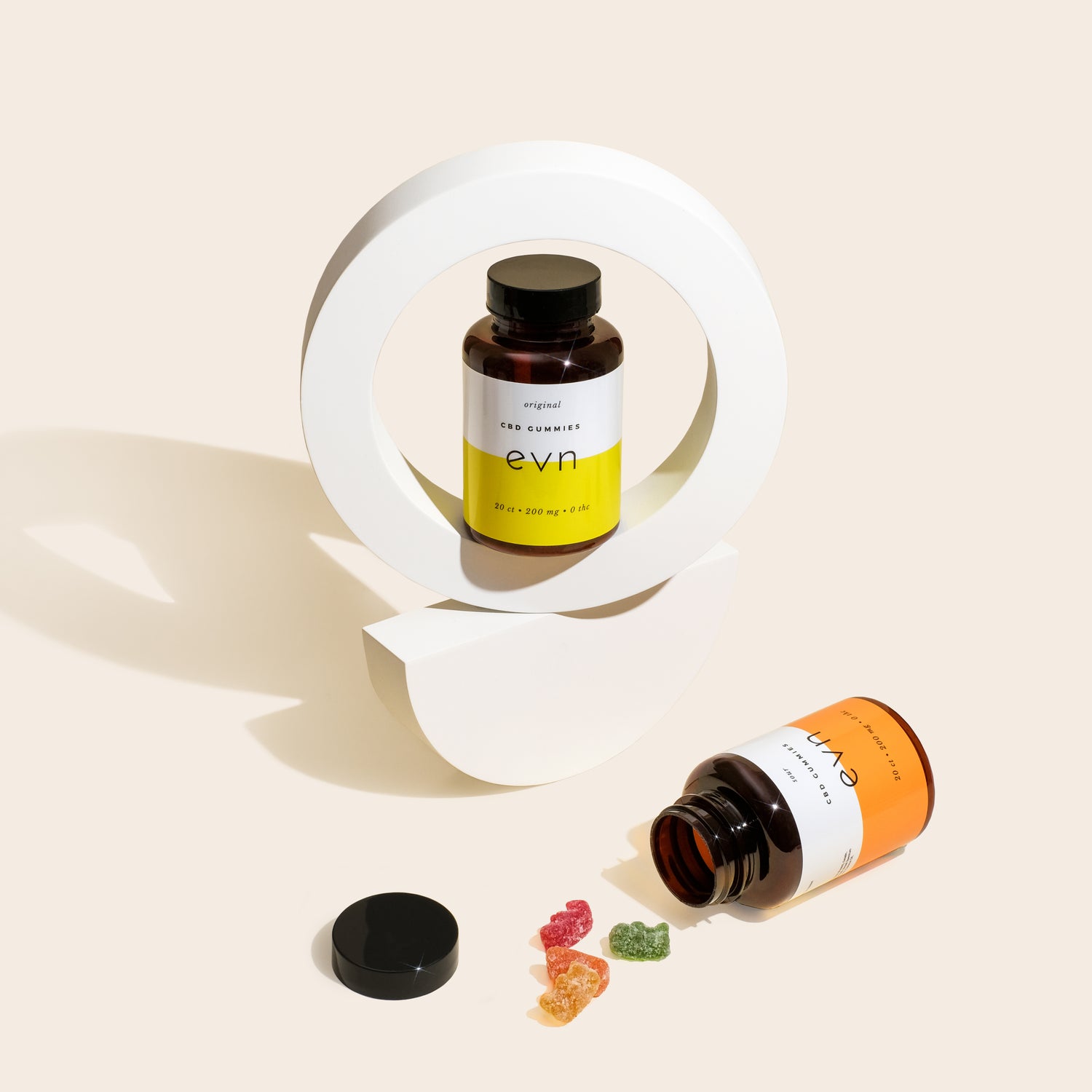 What are CBD Gummies?
CBD gummies are a healthy and tasty way to get your daily dose of CBD. They combine the best of both worlds: gummy candy and CBD oil! CBD gummies provide you with a convenient way to take CBD from anywhere. Just bring your gummies with you and pop a gummy when it's appropriate for you. They're also an easy way to consume CBD if you do not like the earthy taste of hemp. It is important to purchase CBD gummies from a reputable brand like Evn CBD, and ensure that they are third-party lab testing.
BEST CBD GUMMIES FOR SLEEP, RECOVERY AND RELAXATION
For premium CBD gummies online, check out our selection of delicious CBD gummy bears, carefully crafted to help support your overall health. These delicious chewables contain broad-spectrum CBD (THC-free!) with a convenient pre-measured dose to support sleep, recovery, and relaxation. Made with all-natural ingredients, these gummies are formulated to best support you and your wellbeing
EVN CBD GUMMIES FOR SALE
CBD gummies. When you think about it, it sounds a bit weird to have sweets infused with CBD oil, right? The thing is, sometimes raw CBD oil straight from the dropper isn't that desirable, but you still want the balance, focus, and wellness that CBD can invoke. That's where CBD edibles like our delicious CBD gummies come into the picture. CBD gummies are a great alternative to get the positive effects of cannabidiol oil wrapped
up in a sweet (or sweet and sour) gummy bear.
OUR CBD GUMMIES ARE HIGH-QUALITY
Our Evn CBD gummies for sale are a subtle way to keep up your CBD doses when out in public. Or, if you have a sweet tooth like us, it's just a more delectable alternative than the oil itself. Our CBD gummies are made with the highest quality of confectionary craftsmanship. We extract our CBD from hemp plants grown in the U.S. using a minimally invasive CO2 method so that you get the purist CBD infused into your gummies. Our third-party testing also ensures that our CBD gummies have 0.00% THC in them, meaning that whether you're a working professional or an athlete, these are fine for you to eat any time.
FAQ
What should I expect during my first time trying CBD gummies?

With Evn CBD gummies, you can expect to enjoy a tasty gummy that provides you with relief. As everyone is different, the effects of CBD will vary. Some people see a difference in their sleep, recovery, and/or ability to relax. We recommend starting with a lower dose (1 or 2 gummies) and then working your way up from there, if needed. 

You will not feel "high", but you may notice that your state of mind is a little different. Remember that factors such as your metabolism, body composition, body weight, medications, and whether you've eaten or not before can all affect how long it will take for you to feel the effects of CBD. 
What are the benefits of CBD gummies?

Benefits vary from person to person. CBD gummies are not designed to treat, cure or diagnose medical ailments. Some people report feeling an increased sense of well-being. Usually, CBD gummies are used to promote a sense of calm and balance.
What makes Evn CBD gummies better than others?

We only source our CBD from premium, organic hemp farms, and use a low-temperature CO2 extraction method. We then submit our products to third-party testing to make certain that you're getting the purest CBD products on the market.
Can CBD Gummies Get You High?

CBD gummies provide the same relaxation benefits as marijuana without getting you high. Our CBD gummies contain 0.00% THC, which means they can be consumed daily without getting in the way of cognitive performance.
Is it legal to take CBD gummies?

Absolutely. All of the hemp plants that our gummies are made from are legally grown in the United States.
Can children take CBD gummy bears?

We do not recommend that children take CBD gummies – we recommend you stay with store-bought brands of non-CBD gummy bears instead. While we don't have any intoxicating or dangerous substances in these gummies, CBD can affect every person differently, especially children. Consult your physician if you have any more questions about children taking CBD.
Can seniors take CBD gummies?

Absolutely. We encourage seniors to try our CBD products to see if they can benefit from them!
Can CBD gummies be used for pain relief?

Evn CBD gummies are not intended to be a pain reliever, nor are they meant to diagnose or cure any condition or ailment you may be facing. However, many people use CBD gummies for mild pain and to promote and maintain wellness on a daily basis.
Can hemp CBD gummies treat anxiety?

Evn CBD gummies and products aren't designed to treat or cure any ailments, including anxiety. That said, our products do promote a sense of calm and are useful for managing daily stress.
Can CBD gummies help me go to sleep?

CBD gummies aren't meant to help you sleep – we don't design our products to treat or cure any aliments like sleep deprivation, disruption, or insomnia. Our gummies do, however, promote a sense of calm and wellbeing. Calming down and relaxing are ways to help you drift off, but the main aim of our gummies is not to treat sleep issues.
Can athletes take CBD gummy bears?

Absolutely! It may not help you run faster, tackle harder, or throw with more accuracy, but if you want to use these to increase your sense of calm and focus before a game or performance, go right ahead.
When will my CBD gummy bears arrive?

You can expect your CBD gummies in 3 to 5 business days. Since we're only human, sometimes we (or our partners at UPS) can experience delays. If you are experiencing delayed delivery, please get in touch with us by email at info@evn-cbd.com 
Can CBD Gummies Promote Recovery and Relaxation?

CBD gummies have been shown to reduce physical and mental stressors, contributing to a sense of relaxation. They can also help promote recovery by helping you unwind.
Do Your Gummies Have THC in Them?

Evn CBD gummies contain 0.00% THC, making them a safe and effective option for anyone looking to enjoy the benefits of CBD without the THC component.